Fertilizer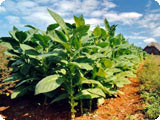 We source and stock a full line of safe and natural fertilizer for the commercial nursery and greenhouse grower, Agriculture growers. The products lend themselves to use by homeowners for garden applications as well. Nature has had nearly five billion years to perfect an eco-system capable of feeding the world for years to come so long as it's managed properly.



The Greenhouse Nurseries products work with the forces of Nature:

1. Restores soil with naturally made green house supplies
2. Re-establishes the microbial activity required for plant nutrition and natural insect control.
3. Re-balances the micro-nutrients and trace elements necessary for photosynthesis.

The U.S. government approves many materials for use under severe restrictions as to dose and repetition for good green house results. However, many of the toxins found in conventional products are cumulative -- they stay with you forever.



How do our products differ?

1. Our products pose no threat to humans, animals, or the environment
2. There is never pollution, runoff, or waste.
3. We take pride in the safety and quality of our naturally made products.

Money spent to control parasites and weeds for favourable greenhouse production currently represents a major percentage of the input cost of growing plants. However, the controls themselves can deteriorate soil conditions even further, adding stress and attracting more parasites in a downward spiral of deteriorating fertility.



Our products are unique

1. Increases the yield of your soil
2. Harmless to humans, animals, and the environment.
3. Our naturally made products produce plants with a healthy long life.

We supply the developing world with natural fertilizer.