Coconut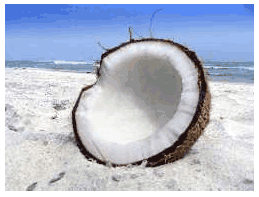 Health Benefits of Coconut Oil
The health benefits of coconut oil include hair care, skin care, stress relief, maintaining cholesterol levels, weight loss, increased immunity, proper digestion and metabolism, relief from kidney problems, heart diseases, high blood pressure, diabetes, HIV and cancer, dental care, and bone strength. These benefits of oil can be attributed to the presence of lauric acid, capric acid and caprylic acid, and its properties such as antimicrobial, antioxidant, antifungal, antibacterial and soothing properties.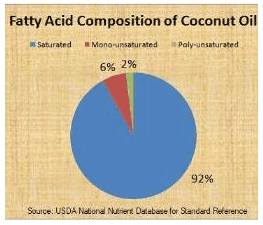 How is Lauric Acid Used by our body?

The human body converts lauric acid into monolaurin which is claimed to help in dealing with viruses and bacteria causing diseases such as herpes, influenza, cytomegalovirus, and even HIV. It helps in fighting harmful bacteria such as listeria monocytogenes and helicobacter pylori, and harmful protozoa such as giardia lamblia. As a result of these various health. though its exact mechanism of action was unknown, it has been extensively used in Ayurveda, the traditional Indian medicinal system. The Coconut Research Centre has compiled various benefits in both traditional and modern medicine.

Composition of Coconut Oil:

Coconut oil consists of more than ninety percent of saturated fats (Don't panic! First read to the last word. Your opinion may change), with traces of few unsaturated fatty acids, such as monounsaturated fatty acids and polyunsaturated fatty acids. Virgin coconut oil is no different from this. Let us have a bit detailed study of this..
Saturated fatty acids: Most of them are medium chain triglycerides, which are supposed to assimilate well. Lauric acid is the chief contributor, with more than forty percent of the share, followed by capric acid, caprylic acid, myristic acid and palmitic.
Polyunsaturated fatty acids: Linoleic acid.
Monounsaturated fatty acids: Oleic acid.
Poly-phenols: Coconut contains gallic acid, which is phenolic acid. These poly-phenols are supposed to be responsible for the fragrance and the taste of coconut oil and Virgin Coconut Oil is rich in these poly-phenols.
Certain derivatives of fatty acid like betaines, ethanolamide, ethoxylates, fatty esters, fatty polysorbates, monoglycerides and polyol esters.
Fatty chlorides, fatty alcohol sulphate and fatty alcohol ether sulphate, all of which are derivatives of fatty alcohols.
Vitamin-E and Vitamin K and minerals such as Iron.
Health Benefits of Coconut Oil
Let us now explore the benefits of coconut oil in detail:
Hair Care:
Coconut oil is one of the best natural nutrition for hair. It helps in healthy growth of hair providing them a shiny complexion. It is effective in reducing the protein loss for damaged and undamaged hair.
Coconut oil is extensively used in the Indian sub-continent for hair care. Most of the people in these countries apply coconut oil on their hair daily after bath. It is an excellent conditioner and helps in the re-growth of damaged hair. It also provides the essential proteins required for nourishing damaged hair. Research study indicates that coconut oil provides better protection to hair from damage caused by hygral fatigue.
Regular head massage with coconut oil ensures that your scalp is free of dandruff, even if your scalp is dry. It also helps in keeping hair and scalp free from lice and lice eggs.
It is therefore used as hair care oil and used in manufacturing various conditioners, and dandruff relief creams. Coconut oil is normally applied topically for hair care.
Click on the images below to enlarge