NOCA Development – Innovative strategies for sustainable development and growth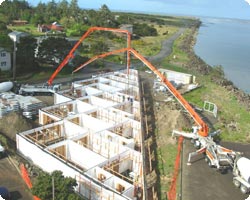 NOCA Development has identified that the level of development of the social sphere and infrastructure are indicators of the level of national development of any economy.

Good infrastructure helps to raise productivity and lower costs in the directly productive activities of any economy, but it has to be expanded fast enough to meet the demand for infrastructure in the early stage of development. Construction expenses for infrastructure such as energy, housing and transportation sectors are enormous and construction period is also long. Providing appropriate infrastructure in developing countries can play a vital role in poverty reduction

Prediction of demand pattern and investment allocation, which are the key factors of infrastructure development planning, must be based on a long term economic development trend and land use planning, which predicts the country's temporal and spatial demographics and economic structure. Infrastructure makes it possible to overcome "natural" causes of poverty such as remoteness from material and information resources, provides access to social services, and helps to increase the mobility and economic activities of the population.